A1x20 The Siege II. (Az ostrom II.)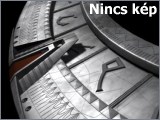 Részletes tartalmi ismertető

Hozzáfűznivalód van?

Abydos Gate értékelés: Hamarosan!




Rövid tartalom:



Egy katonai csapatot küldenek a Földről Atlantisra azzal az utasítással, hogy vegyék át a parancsnokságot Dr. Weirtől és védjék meg a várost a lidérc támadástól.





Írta:
| | |
| --- | --- |
| Joseph Mallozzi | |
| Paul Mullie | |

Rendezte:

Szereplők:

Aiden Ford főhadnagy (Rainbow Sun Francks)
Dillon Everett ezredes (Clayton Landey)
Dr. Carson Beckett (Paul McGillion)
Dr. Elizabeth Weir (Torri Higginson)
Dr. Radek Zelenka (David Nykl)
Dr. Rodney McKay (David Hewlett)
John Sheppard őrnagy / alezredes (Joe Flanigan)
Prenum (Chris Britton)
Radner százados (David Orth)
Technikus (Chuck Campbell)
Teyla Emmagan (Rachel Luttrell)
Wraith (James Lafazanos)



Kapcsolódó epizódok:

8x20 Moebius II. (Moebius II.)
The Siege I. (Az ostrom I.)



Kapcsolódó fajok:

Tauri
Wraith



Kapcsolódó bolygók:

Atlantisz



Kapcsolódó feliratok:

Angol
Bolgár
Brazil-Portugál
Finn
Magyar
Német



Kapcsolódó fórumok:

A1x20 The Siege II. / Az ostrom II.



Kapcsolódó DVD:

Stargate Atlantis - Season 1
Stargate Atlantis DVD 1.5